We didn't just hit a home run in 2022…we smashed it out of the park! This year the Options story went supersonic…and here's our top 10 reasons why…
1. We struck Gold!
It may not look like much to those who haven't delved into the world of Gold Partner Accolades with Microsoft, but this moment has been a year in the making! At the start of 2022, we identified ten relevant Microsoft Competencies to our business, the sector and client requirements.
Fast-forward twelve months; we now have 75+ Microsoft certifications; 130+ new Azure tenants deployed, baselined, and preserved; and 5000+ Office 365 users on our platform. Our Cloud Team led Options on a "Road to Gold" campaign, cementing our status as the number one Microsoft Cloud partner in the global Capital Markets and the only one with the full suite of SOC, security and compliance credentials!
Our crowning glory was achieving our Tenth Gold Partner Competency with Microsoft; a moment which was made even sweeter with a team off-site at this year's Ignite conference in Seattle.
What's next? If you've followed Microsoft's partnership and certification programmes, you may have noticed that things are evolving. Phase two of our Microsoft Certification Programme is well underway, with the team now setting their sights on Microsoft's all-new Business Partner Solutions…so watch this space!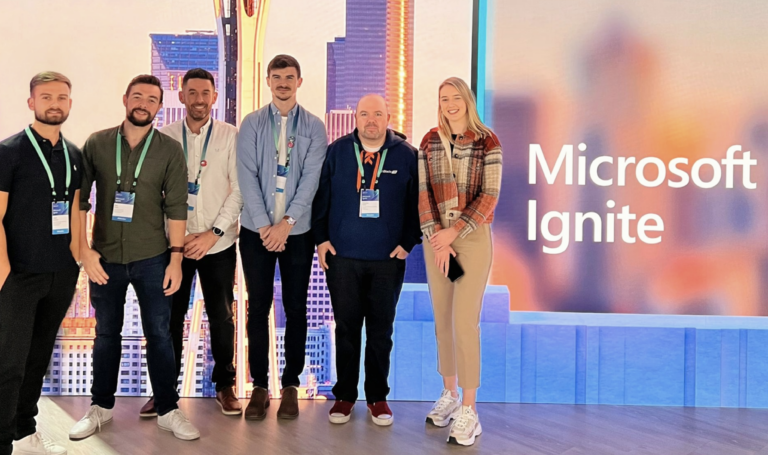 2. We grew!
A lot can happen in a year…and when you crunch the numbers, the view is truly staggering! This year alone, we grew our global team to 440+, racked up over 14,000 client site visits and closed more than 175,000 support tickets. We made 35+ new client MultiCloud deployments, added 684 new network devices to our platform and brought 8 new data centers to our global backbone network. And if you thought that was impressive, we rounded off the year with our 6th VMware Cloud verified DC and a newly upgraded 100Gb WAN Circuit across the London metro area. Not bad for 12 months!
3. We travelled far, far away
You need a serious hunger for travel to power a global tech company, and 2022 was the year our team showed just how global we really are. More than half the under 30s (and a few oldies) hit the road to destinations that included London, Frankfurt, Geneva, Dubai, Hong Kong, Singapore, Auckland, Tokyo, Seattle, San Francisco, Los Angeles, Chicago, Minneapolis, Toronto, New York, Washington, Miami, and Boston.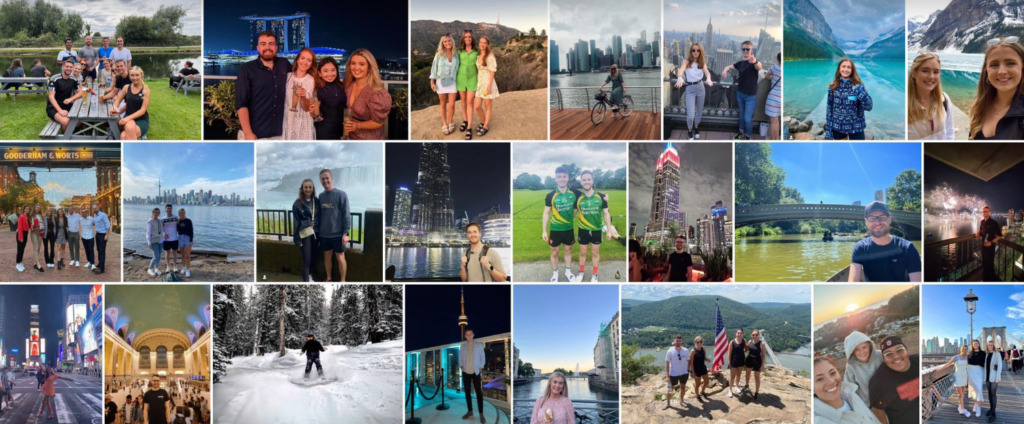 4. We Partnered
Early in the year, we initiated phase one of our Data Platform product development alongside our partners Code Willing, whose unique technology solutions enabled us to address key industry pain points around data acquisition, trading strategy, time to market, and enterprise data control. With Pure Flashblade Storage, we were set to continue the partnership momentum with best-in-class storage solutions, and we are now well-positioned to make big waves in 2023…
5. We made new friends!
With ACTIV Financial officially welcomed to the clan, there was no denying that 2022 was going to be a big year for Options and our market data footprint (which expanded exponentially in 2022!) With travel back in play, we were delighted to finally meet up in person across many of our new regional locations…
6. We accepted the challenge…
2022 had no shortage of landmark moments for the team, and none more relevant than the development of our ESG policy following months of strategic planning with our partners, Sustainable Trading.​ As we evaluate our progress towards our ESG goals, we will continue to build on our commitments in 2023 and ensure we are playing our part in an industry-wide responsibility to improve sustainability, both now and moving into the future.
7. We loved Belfast…even the office!
It's our flagship headquarters, a winner with the Options team and one of the few cities in the world you might find Taylor Swift, Jamie Dornan and Nicole Kidman hanging out on the weekend…Belfast, we love you!
This year, our Linen Loft office played host to Options' award winning Graduate and Placement Programme alongside a welcome return for our teammates, clients and partners who enjoyed everything our city has to offer.
In late December, all roads lead to Belfast and the long-awaited Christmas celebrations at The Merchant Hotel…and one of the biggest office parties of the year, if not the decade! It's safe to say, 2023 will have a lot to live up to!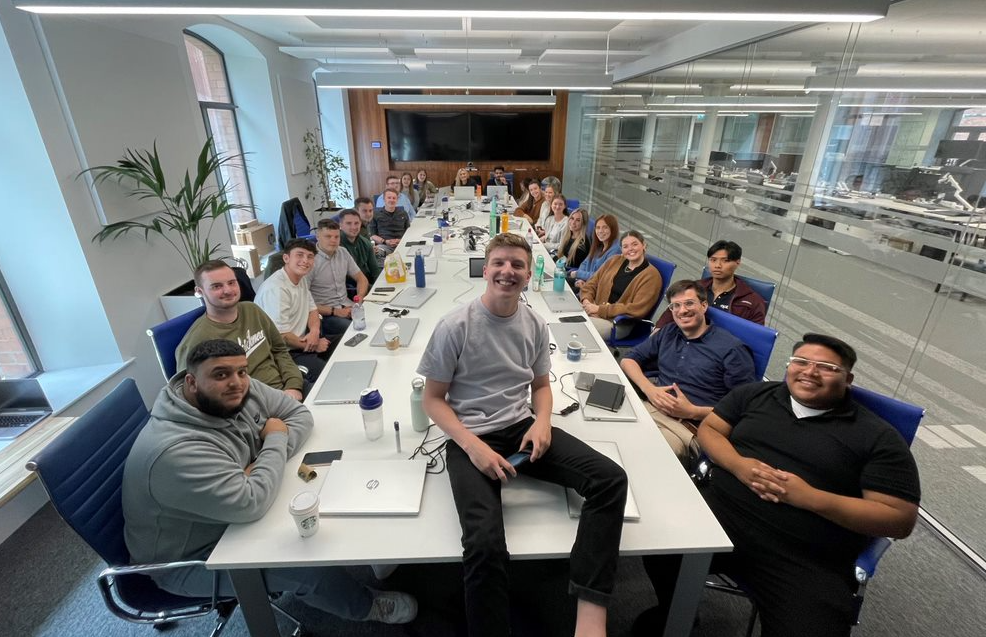 8. We made dreams come true!
At Options, we have a history of ensuring our team have a platform to succeed and thrive in their careers. From cultivating talent through leadership and executive coaching programmes to funding a range of professional qualifications, we have always endeavoured to invest in our people, the true fabric of our business.
2022 saw Options invest in our largest-ever intake of new graduates and placement students, confirming our reputation as one the most exciting tech employers in the sector. Our programme offers graduates the chance to forge a career at the intersection of financial technology and capital markets with the opportunity to see the world thrown in for good measure. Sound fun? Apply below!
9. We moved (and climbed) mountains…
We're no strangers to a mountain (or challenge) at Options, and what better way to champion our charitable partners than a gruelling summit hike. This year we completed the Mournes 7 Peaks in aid of Friends of Africa, we marched with Pride, we wore our worst Christmas jumpers in aid of Cash-for-Kids, and we even helped bring the Derry Girls to Belfast with The MAC…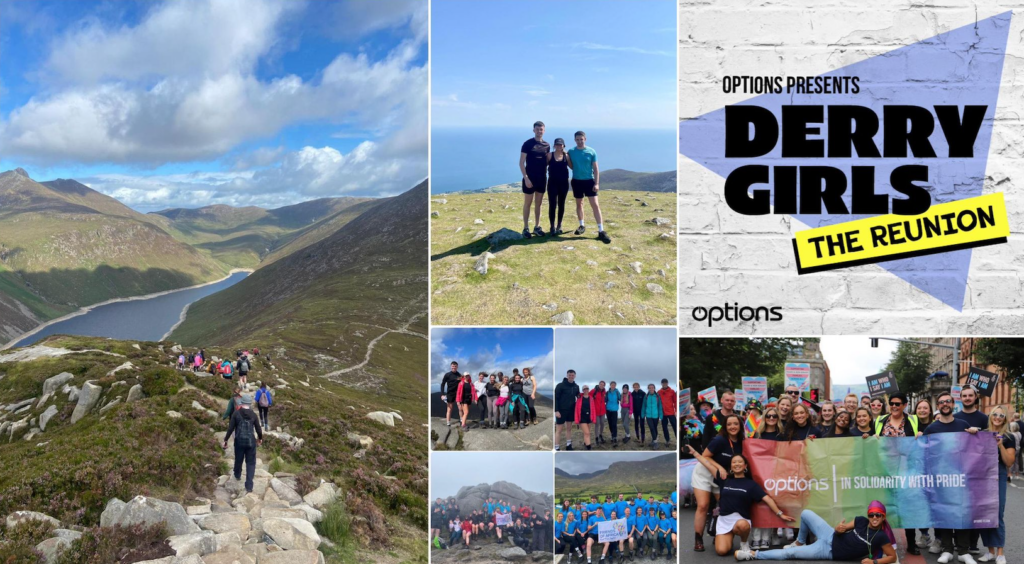 10. We won!
With no shortage of activities this year, it wasn't long before the awards started rolling in. It soon became clear we were going to need a bigger awards shelf…
2022 Awards Summary:
Best Independent Proximity Hosting Data Centre Operator A-Team Trading Tech Insight Awards 2022
Most Innovative Cyber-Security – A-Team Group Innovation Awards 2022
Best Cyber-Security Solution – HFM EU Services Awards 2022
Best Cloud-Based Market Data Delivery Solution – Trading Tech Insight USA Awards 2022
Best Employee Development Programme – The Irish News Workplace and Employment Awards 2022
Best Managed IT Service Provider – HFM US Services Awards 2022
Emerging Partner of the Year – Mimecast 2022 Partner Awards
Best Cyber Security Provider – European Credit Awards 2022
Best Cloud Service Provider – Hedge Week US Awards 2022
Best Use of Cloud Services – Belfast Telegraph IT Awards 2022
IT Services Company of the Year – Belfast Telegraph IT Awards 2022
Best Cloud Tech Provider – Hybrid/Private – HFM Asia Service Awards 2022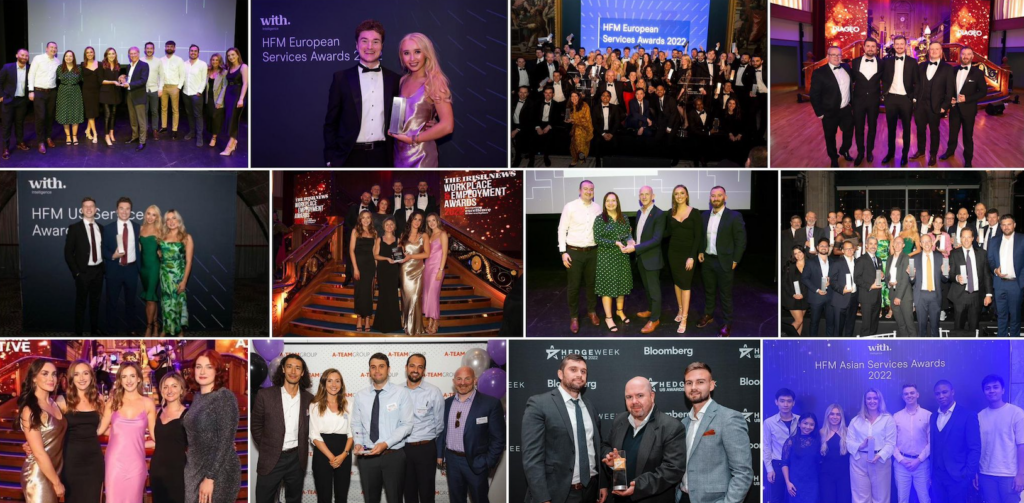 Our top ten moments only scratch the surface of what the team achieved in 2022, a year when the world faced unprecedented levels of challenges, disruption and uncertainty. Suffice to say, our many achievements would not have been possible without the continued support of our clients, friends and partners; you all made this year the success it was!
As we look on to the year ahead, and what is shaping up to be another huge one for Options, we say thank you, happy holidays and see you in 2023!