We started and ended our journey to Stormont Pavilion drenched in rain, nicely intersected with rays of sunshine. Not just metaphorically speaking..…
Our road to Stormont started in July during a wet evening training match with 12 guys from the Belfast office at Queens PEC after a connection with Liam Ireland from Business Fives Limited (not the only thing limited that should be referenced in this sentence…). A month later, in the leafy suburbs of East Belfast, one of our teams unfortunately lost in the Champions League semi-final with the rain with dark clouds above (a reflection on my mood after the result and some individual performance levels, which we will expand on later).
Business Fives are an excellent, well-organised company that runs corporate charity events. They host and design Football, Golf and Esports events. Since launching, they have worked with thousands of companies and raised over £325,000 for charities.
After chatting with Liam that July evening, we gathered two teams within the office. Notably, both teams were male, so it started a natural conversation as to why we can't have a mixed or all-female team?
A few years back, we'd entered an Inter-Firms GAA tournament with seven females signed up; and with Options being an ever-growing company and a leader in progression, why couldn't we go bigger and better?
Demi Friel led the charge in drawing the females in, and by the following week, we'd 12 signed up and raring to go! In total, we'd have three teams, two male and one female – we were ready to take on the world!
Excitement was building, and when the draw was made two days before competition time, confidence (some say delusion) started to build. Mark McGrattan's exuberance and description of his footballing ability made us believe we had the Bangor Lionel Messi in our midst. Mark forgot that we had all seen him play before. Once reminded of his actual level of football prowess, his confidence quickly disappeared, but thankfully a few easy "unlock account" tickets lifted his spirits again.
Team 2 displayed great and not-so-great performances in the group stages before being knocked out in the last 16.
Mark McGrattan getting booked for dissent two games in a row has put into question his role within the Golden Mile of Bangor community, and this will be discussed at their next meeting over skinny decaf chai lattes.
Jack Millar running himself into the ground (literally with blisters on the bottom of both feet) saw him grab a goal, Michael Press keeping a high line with great finishes against Hunter Savage. Some thought Daithí Sands would be all at sea without a hurl in his hand, but he managed to look comfortable with a ball at his feet. Although he did confuse matters at times when shouting "too long" anytime the keeper held the ball in their hands for more than four steps.
East Belfast finest Jason Davidson failed to back up his pre-tournament ability predictions, with his head still firmly stuck in the Cloud…
Patrick Collins finished the tournament on one foot, asking for someone to help patch him up; married life had caught up with him after only a month.
Options Team 1 started off the day with a 5-4 defeat to the MCS recruitment team; some have noted this was due to the gratitude of the Options players to MCS in helping them find Options as an employer. Although this was quickly dismissed by the players, with some of Jack Walsh's touches and Leigh Jones' passing, it would have been easy to understand why this was the discourse.
Resilience was shown in the next group game to beat our Linen Loft neighbours Instil by 4 goals to 1, and passage to the second group stage was secured. After several impressive performances, a knockout place was guaranteed, and Lockdon Insurance awaited us. A gritty 3-2 win with some questionable cynical play by one of the elder statesmen in the remaining seconds, reminiscent of Giorgio Chiellini on Bakury Saka, saw a quarter-final place with Concentrix to get into the last 4.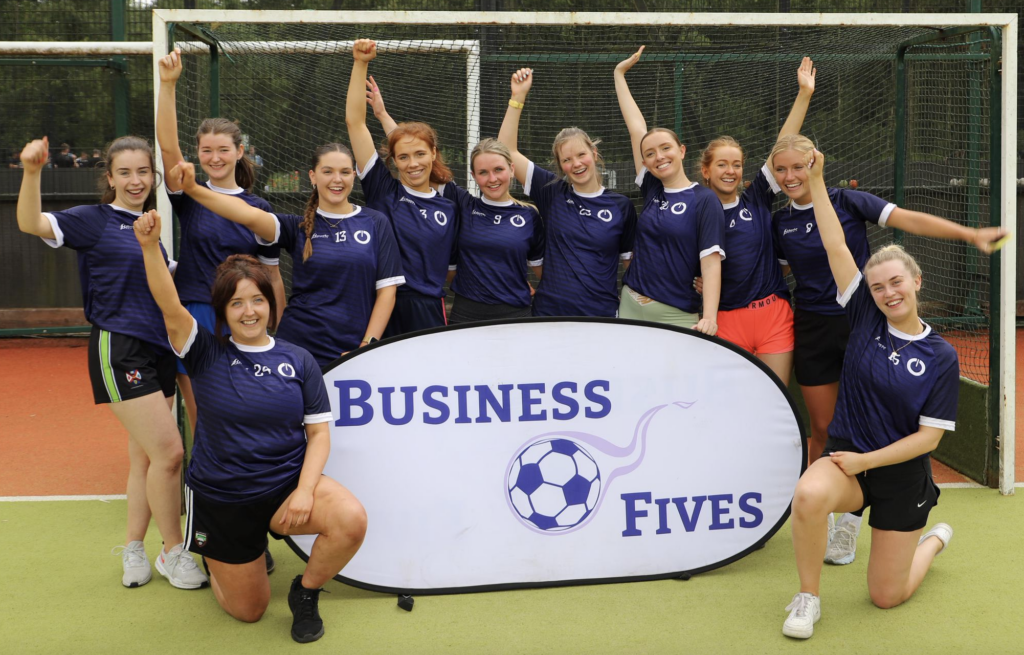 3-1 down with minutes on the clock, a few emergency subs and positional changes were made; Mo Lawless was running around like his namesake, Farah. Pressing from the front with our own famous namesake, Paul O'Connell took time out from the second row to provide guile and physicality. A nice move from Conall McErlean, Qhama Matthews and Caolan McCarron saw McCarron (aka our Crouchie due to being his doppelganger and the same ability to punch above his weight) clinch an equaliser to bring it to penalties which we won in sudden death.
Unfortunately, as the rain started to pour, Options' performance on the field reflected this change in the weather. One too many required an oxygen tank and a foot transplant to improve their first touch to lose 4-1. Seven games later, and the dream was over for the lads……
Over then to see how our very own Lionesses were doing. It turns out they had caused a ripple two minutes into their first game with Cliona O'Doherty (some say she has a louder roar in the office than an African Lionesses) opening the scoring. However, their opponents fought back to clinch a victory with a dodgy penalty or two (according to Nicola Maloney, who didn't see anything wrong with pushing the opponent to the ground in true BT9 St Brigid's GAA fashion).
A recurring theme in the games for the females was the energetic performance of Leona O'Kane. End-to-end, tackling, passing and repeated fouling (allegedly) were the hallmarks of an outstanding display throughout that was not going unnoticed by the organisers, who crowned Leona as one of the players of the tournament!
The games continued with Nicola Maloney, Leanne Miller and Leona grabbing goals in some tight matches. Sarah O'Brien reminded the spectators of Mary Earps in goals, while glimpses of Mia Hamm were on show.
Sadly, the journey was ended after a defeat to a Field Fisher team that reeled too many of the females into their high line, and they took the bait falling to a one goal defeat. For many of the females, this was their first time playing football, and although the English national team won't lose any sleep after their recent Euros victory, our own Options female team made us all proud as the only all-female team to play at the event. Awesome!
This is only the beginning and as a famous footballing Australian manager once said, "We Never Stop". This will be the case for the group of females and the broader Options team as we increase participation, development, and opportunities for all.