Overview: Managed Colocation
Options Managed Colocation provides a fully managed suite of electronic trading infrastructure services to the global capital markets, across all asset classes – ranging from basic proximity hosting or liquidity connectivity through to dedicated managed liquidity center infrastructure and design.
Managed Colocation services include the delivery of direct market data and order entry, colocated servers, bespoke networks, time services, and client and counterpart connectivity. All services are available either individually or as a holistic managed service.
Leveraging the fastest WAN links between key centers, industry-leading automation, best of breed technologies, and operational processes hardened over 30 years in the business, we enable financial firms across the full capital markets spectrum to operate with more agility, stability, and cost certainty than traditional approaches.
Key Facts
Connected to over 100 exchanges, dark pool and ECN venues globally.
Delivered over resilient, fastest path routes.
Utilising Arista ultra-low latency switching technology to provide sub microsecond delivery in data centers.
With investment bank grade security certification & processes (SSAE 18 / SOC 1 & 2).
Supported by industry expert operational teams, deployed in region 24×7 and when any market is open anywhere in the world.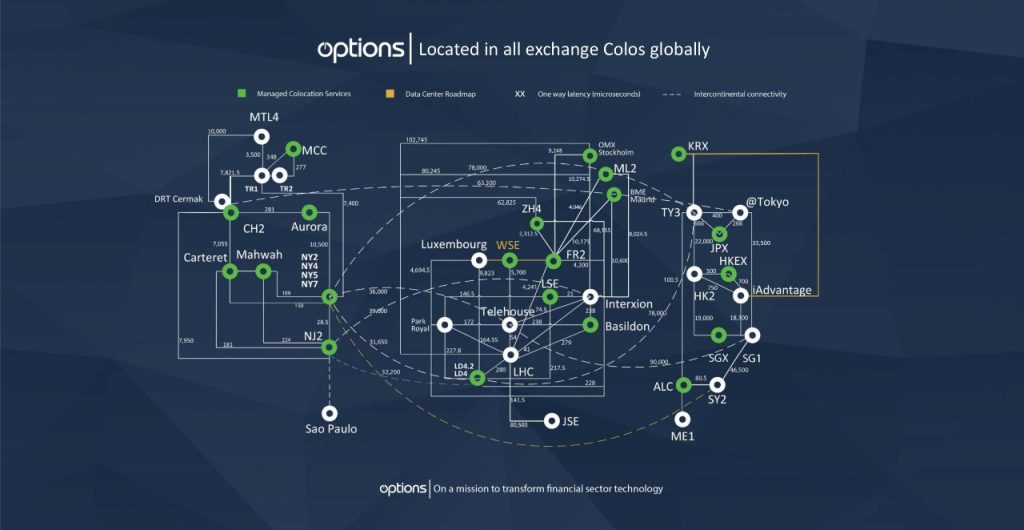 Features
Global fully resilient and diverse low latency backbone linking all key financial centers
All Options managed fibre, based on point to point circuits contracted directly with carriers
Deterministic guaranteed low latency performance
Evergreen policy, continuous upgrades to the fast routes
Carrier and physical diversity on all routes
Map Key
All latencies shown one way in microseconds
Dashed lines indicate intercontinental connectivity
---
Service Overview
Technology
We collaborate with vendors and clients to constantly research and deploy cutting-edge, best of breed production technology. Providing a dedicated ultra-low latency platform and the flexibility to deploy on the latest and greatest technology without the constraints of hardware vendor lock in.
Network
Options follows an evergreen approach to connectivity, building the fastest low latency network on the market. New and existing routes are chosen and renewed on only the fastest routes available, fully diverse with redundant paths providing 100% confidence.
Data Center
We constantly review and expand our data center estate ensuring we are able to provide colocation and proximity services at every liquidity hub and venue of interest to the market. Our goal is to provide client environments in every exchange colocation and proximity venue globally.
Market Data
Through relationships with exchanges, clients and partners we constantly review and add new or existing markets to the Managed Colocation platform. Markets increase in volatility as their popularity grows and we use these indicators along with client feedback to adjust our onboarding roadmap to ensure we have the markets you want. Our aim is to deliver raw and aggregated market data from all relevant venues globally direct to client applications.
Execution
Providing ultra-low latency access to a diverse range of order execution and broker services alongside continually bringing new execution venues onto the platform. We aim to provide access to all venues globally, including pre-trade risk check.
Managed Servers
With a flexible managed server model and supporting the latest and greatest bare metal servers, cards and operating systems, Options is able to meet and beat evolving client demands. The platform is managed, monitored and operated by our in-house team of engineers, market operations and NOC staff globally.